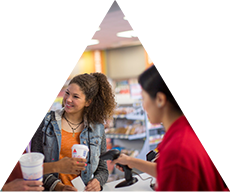 Tips to Improve Your Interior Image
These guidelines will help make sure the inside of your location is clean, easy to get around and nice to look at for your customers — especially the restrooms.
Download the complete Mystery Shop questionnaire/checklist.
Clean restrooms on a daily basis, at the very least
Get rid of offensive odors by using aerosol dispensers
Make sure all toilets and urinals are clean and in working condition
Replace mirrors that have excess scratches
Maintain lighting fixtures and make sure they work
Keep restrooms stocked with paper, towels and soap in the appropriate dispensers
Repair dispensers as needed, including hand dryers
Empty trash cans as needed; they should not be overflowing
Clean floors and rugs on a regular schedule
Make sure that lighting is working throughout the location
Remove obstructions from the aisles
Empty trash cans as needed; they should not be overflowing
Keep counters in the food service area clean and free of clutter
Maintain equipment in good working condition; make sure it is clean
Keep fresh coffee available in the morning and hot food available at lunch and dinner
Clean and remove residue from gondola shelves
Keep merchandise on shelves full and well stocked
Make sure cooler doors are clean with working lights
Keep merchandise in coolers full and well stocked
Keep displays clean and well maintained
Make sure that all promotional signage reflects current sale items/prices
Pre-print promotional signage so that it looks professional
For more tips on how to improve your location, visit mycsquare.com.