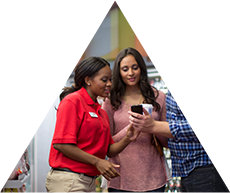 Tips to Improve Your Customer Service
These guidelines will help make sure you and your employees look nice and give friendly, helpful service to each customer that walks through your door.
Download the complete Mystery Shop questionnaire/checklist.
Keep a clean and well groomed appearance
Wear a uniform and/or nametag
Don't forget to smile
Always provide eye contact and verbal acknowledgement to all customers
Give all customers a friendly greeting
Thank customers after every transaction
Make sure that product totals match posted prices for all transactions
Process all transactions as quickly as possible so that customers don't have to wait
Make sure the sales counter has adequate room to place products for purchase
Keep sales counter displays clean, organized and well stocked
Always ask your customers if they were able to find what they were looking for and if there is anything else they need
Attempt to "plus sell" special items and programs (e.g., carwash, MDA Shamrock, daily special, etc.)
TRIMARK TIP
Is your level of customer service increasing your margins or costing you money? GasBuddy recently concluded that gas stations with below-average customer service ratings on its app saw 15% fewer visits than industry average. Conversely, gas stations with above-average customer service ratings on the app saw a lift of nearly 7%.
Source: GasBuddy Q1 2018 Foot Traffic Review.
For more tips on how to improve your location, visit mycsquare.com.